The past of Avenida de Mayo
In 1894 the construction of the attractive avenue began with the purpose of connecting the two most important institutions of the country: the Casa Rosada and the National Congress.
After its construction, the avenue acquired a Parisian atmosphere capable of attracting the Buenos Aires elite, filling with distinguished buildings, theaters and elegant cafés. Among the cafés of the time, Café Tortoni stands out, which is still in operation despite being the oldest in the city.
Due to its great social importance, the avenue also housed the headquarters of the most widely circulated newspapers such as La Prensa, El Diario, El Argentino and El País. The avenue became an important place and, among its peculiarities, one of its buildings had the first elevator to ever be installed in Buenos Aires.
The avenue today
Avenida de Mayo preserves all the splendor of past times, showing the whole world the energetic and cosmopolitan character of the city.
Its buildings conserve a striking mixture of Art Nouveau, Belle Époque and Art Deco façades, offering a comprehensive display of architecture. The Palacio Barolo and the Edificio de la Inmobiliaria are the two most important examples of its grandeur.
Avenida de Mayo has been and still is one of the most important avenues in the city, so it is usually the scene of most of the demonstrations and celebrations of the residents of Buenos Aires.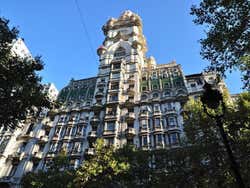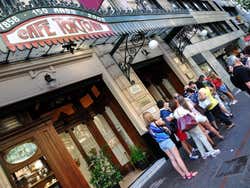 Transport
Metro: Avenda de Mayo, line C; Piedras & Sáenz Peña, line A.