National Museum of Fine Arts
Inaugurated in 1895, the National Museum of Fine Arts in Buenos Aires (MNBA) collects and exhibits the works most significant to Argentina's artistic heritage, making it one of the leading museums in Latin America.
History of the museum
The National Museum of Fine Arts in Buenos Aires opened its doors in 1895 in the Galerías del Bon Marché, the site of today's Galerías Pacífico. The museum's holdings were greatly increased by new acquisitions and donations, so the museum had to be moved to the Pabellón Argentino in the Plaza General San Martín.
In 1932, the museum was moved again. This time, it was moved to the Casa de Bombas (where the pumping stations and water tanks were located) where it remains today.
Exploring the museum
The National Museum of Fine Arts consists of over 12,000 works, an art library with more than 150,000 volumes and a 320 square metre auditorium.
Among the thousands of works the museum owns, you'll find paintings, prints, drawings, sculptures, tapestries and other objects, displaying a total of 700 items across 34 colourful rooms.
The museum's permanent collection features works by leading Argentinean painters and sculptors displayed alongside works by well-known artists such as Picasso, Goya, Monet, Manet, Renoir, Van Gogh, Rubens, Cézanne, El Greco and Rodin.
A museum we recommend visiting
The National Museum of Fine Arts in Buenos Aires is one of the main museums in the city and houses fascinating and varied exhibitions. Its central location and the fact that it offers free admission make it a must-see for anyone visiting Buenos Aires.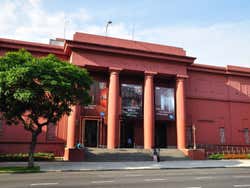 Schedule
Tuesday to Sunday: 10 am to 8 pm.
Mondays: Closed.
Transport
Public Buses: lines 10, 37, 38, 41, 59, 60, 67, 92, 93, 95, 102, 108, 110, 118, 124, 128 and 130.