Located in the affluent neighbourhood of the same name, the Recoleta Cemetery is the spot where some of the most famous figures in Argentine history are laid to rest alongside the anonymous citizens who raised the necessary funds for this luxurious space.
 
Founding the Recoleta Cemetery
At the beginning of the 18th century, friars from the order of Franciscan Recollect monks settled in the area and built a church and a monastery.
In 1822, this order was dissolved and the city's first public cemetery was established on this site.
An overview of the cemetery
The cemetery spans an area of over 50,000 square metres and surpasses 4,800 vaults.
Mausoleums built in marble and bronze, grand Greek temples and small Egyptian pyramids stand alongside monumental, Art Nouveau cenotaphs. 
The cemetery's large avenues and narrow passages lead to the graves of several famous people. Among them, we'll find Eva Perón (Evita), Carlos Pellegrini, Nicolás Avellaneda and Bartolomé Mitre.
Fascinating history
While the idea of visiting a cemetery may strike you as a little macabre, the Recoleta Cemetery is one of the best places to visit in Buenos Aires.
The cemetery's impressive sculptures and mausoleums constitute a unique open-air museum that presents visitors with the chance to learn all about the art and history of Buenos Aires. 
If you'd like to explore the cemetery's main points of interest while discovering its fascinating history, it's best to visit accompanied by a guide.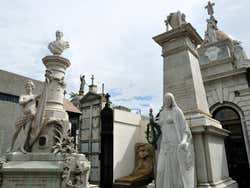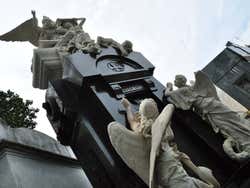 Schedule
Monday to Sunday: 7 am to 5:30 pm
Transport
Public Buses: lines 5, 10, 17, 37, 38, 39, 41, 59, 60, 61, 62, 67, 75, 92, 93, 95, 101, 102, 106, 108, 110, 124, 130 and 152.