The Museum of the City of Buenos Aires, established in 1968, aims to show the history of the city and its residents through different historic buildings and exhibitions.
The museum comprises a complex of buildings from different periods that form part of the historic centre of the city.
Exhibitions
Pending renovations to the original building, the Museum of the City of Buenos Aires is spread across the Casa de los Querubines. This building was constructed in 1894. In its different rooms, you can see original furniture from different historical periods and some antique toys that bring life to the house.
The beautiful Farmacia de la Estrella nearby, built in 1895, is also part of the Museum of the City. This spot, which still operates today, is one of the oldest pharmacies in the city and still has its delightful wall paintings and original furniture.
Central and free
The Museum of the City of Buenos Aires boasts a central location next to the Plaza de Mayo and has free admission, so you can easily drop by if you're in the area.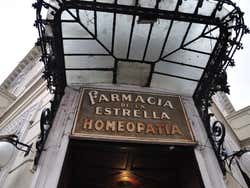 Schedule
Every day from 11 am to 6 pm.
Transport
Public Buses: lines 22, 24, 28, 29, 33, 50, 54, 56, 61, 62, 64, 74, 86, 91, 105, 111, 126, 130, 143, 146, 152 and 159.
Metro: Plaza de Mayo, line A; Bolívar, lines A and E; Catedral, line D.