Palermo is a large residential neighborhood in Buenos Aires that stands out for its beautiful tree-lined avenues and elegant homes.
It is one of the greenest areas of Buenos Aires thanks to Tres de Febrero Park, also known as Bosques de Palermo.
Besides being a pleasant area to eat or do some shopping, the Palermo neighborhood has many attractions such as the Botanical Garden and the city's zoo.
Areas of Palermo
With more than 16 square kilometers, Palermo is the largest neighborhood in the city and is divided into two distinct areas:
Palermo Chico: this is an area of palaces and residences where a large part of Buenos Aires high society lives.
Palermo Viejo: this old area of "casas chorizo" (adjoining rooms around an open gallery) and low houses was restored for the installation of cafés, restaurants, stylish houses and numerous boutiques, making it a very pleasant quarter.
The liveliest area of Palermo is known as Palermo Soho, inside Palermo Viejo. The nerve center of the area is Plaza Serrano (officially Plaza Cortázar). This is where the best stores and restaurants are located.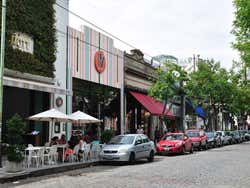 Transport
Metro: Plaza Italia, Palermo & Scalabrini Ortiz, line D.