Tres de Febrero (3 February Park), also known as Palermo Woods, is a set of parks that form a huge green space spanning 25 hectares in the Palermo district.
Built on the land that was seized from Juan Manuel de Rosas, the park was opened in 1875 and named in remembrance of the death date of its previous owner in the Battle of Caseros.
Highlights
The Tres de Febrero Park has lush vegetation that makes it an ideal place for eating, strolling or taking a boat around the lake.
The Rose Garden is one of the most beautiful areas and makes up the heart of the park. Created in 1914 and boasting over 14,000 rose bushes, the Rose Garden has an Andalusian courtyard, a gazebo covered with climbing roses and a charming white bridge across the lake.
In the centre of the park, you'll find the Poets' Garden. This space is filled with busts that pay homage to history's greatest poets.
The green lung of Buenos Aires
The striking green complex that makes up Tres de Febrero Park stands out for its woodlands, lakes and delightful rose bushes, which is why it's usually frequented by tourists and locals throughout the week.
While visiting this part of the city, we also recommend heading to the nearby Japanese Garden and Botanical Garden.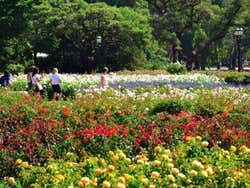 Transport
Public Buses: lines 10, 15, 37, 59, 60, 67, 93, 95, 102, 108, 118, 128, 130, 141, 160 and 188.
Metro: Scalabrini Ortiz, line D.