Recoleta is a centrally located residential neighborhood in Buenos Aires that is of great historical and architectural interest.
It differs from other neighborhoods in Buenos Aires in the quality of its architecture and the aristocratic character of its residences, surrounded by splendid gardens and squares.
The birth of the La Recoleta neighborhood
The neighborhood of La Recoleta has roots in the Franciscan order of the Recoletos Convent that settled in the area at the beginning of the 18th century. The monks created a convent, a cemetery and the Church of Nuestra Señora del Pilar.
At the end of the 19th century, the yellow fever epidemic attracted the wealthiest families to the neighborhood, which at the time was located at one of the highest and safest points of the city. From that moment on, the neighborhood became one of the most elegant and expensive places in Buenos Aires.
What to see in Recoleta
The neighborhood stands out for its historical monuments and its great cultural spaces, among which are the National Museum of Fine Arts, the Recoleta Cultural Center and the National Library.
Among Recoleta's main points of interest are the Recoleta Cemetery, the Basilica of Nuestra Señora del Pilar and the Floralis Genérica, although the true beauty of the neighborhood can be discovered by walking through each of its quiet corners, parks and lively streets, such as Avenida Alvear.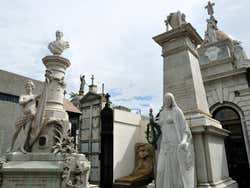 Transport
Metro: Pueyrredón & Agüero, line D.