The name of the square commemorates the Revolution of May 25th 1810, when the citizens gathered to expel the Viceroy and form the First Junta government. Since then, the square has been a silent witness to the country's most important political and social events.
Most symbolic buildings
This square is framed by important historic and governmental buildings, among which we'll find the following:
Casa Rosada: Located in the place where the city's ancient fortress once stood, the Argentine House of Government has a unique pink colour on its façade.
Cabildo of Buenos Aires: Constructed in 1725, the former seat of the viceroyalty now houses the National Museum of the Cabildo and the May Revolution.
Metropolitan Cathedral: Built in 1836, the Metropolitan Cathedral has a striking neoclassical exterior and the interior of a Spanish colonial church.
Banco de la Nación Argentina: This important building was constructed between 1940 and 1955 and is the headquarters of the Banco de la Nación. The building is covered by an impressive vault that has a diameter of 50 metres.
Monuments in the Plaza de Mayo
The square has two important monuments:
Píramide de Mayo: Towering at 18 metres high, the Píramide de Mayo stands in the centre of the square to commemorate the revolutionary architects of Argentina's independence.
Monument to General Manuel Belgrano: The equestrian statue of General Belgrano pays homage to the creator of the Argentine flag.
Another image typically associated with this square is that of the "Mothers of the Plaza de Mayo". This association emerged during the Argentine Republic's last military government. The group fights for the return of disappeared detainees and to uncover the identities of those responsible for these crimes.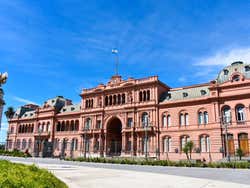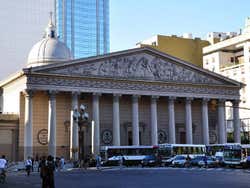 Transport
Metro: Plaza de Mayo, line A