San Telmo is a bohemian neighborhood that is best explored on foot, delighting in its cozy old atmosphere while learning about the city's past.
History of San Telmo
San Telmo was inhabited by the city's wealthiest families until 1871 when the yellow fever epidemic devastated the area and survivors moved to the north of the city.
After the departure of the city's upper class, European immigrants moved into the colonial buildings and the so-called "conventillos", where families lived in cramped quarters.
While the north became richer, San Telmo became increasingly more run-down and its demolition was being considered. In 1970 the antiques fair was created in Plaza Dorrego and the determination was made to preserve the important architectural heritage of the area.
Places of interest in San Telmo
The heart of San Telmo is marked by Plaza Dorrego, the oldest square in the city after Plaza de Mayo. Every Sunday the square becomes the scene of a quirky and interesting antiques fair.
San Telmo is one of the best-preserved neighborhoods in the city and is full of places of interest such as the Zanjón de Granados, the Penitentiary Museum, and curious sites like Casa Mínima which, at 2.5 meters wide and 13 meters deep, is the narrowest house in the city.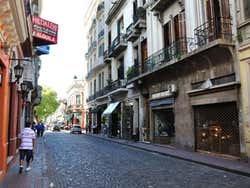 Transport
Metro: San Juan & Independencia, line C.