The Teatro Colón is one of the most important opera houses in the world due to its size and incredible acoustics.
Revered by the public and by leading artists, the Teatro Colón is considered to be among the best five opera houses in existence, alongside the Teatro alla Scala in Milan, the Vienna State Opera, the Semper Opera in Dresden and the Palais Garnier in Paris.
Discovering the Teatro Colón
During your visit to the Teatro Colón, you'll travel through the enormous entrance hall. If you look up, you'll see the dome formed by incredible stained glass windows. Visitors should also head to the Sala de los Bustos and the Salón Dorado, which is a pleasant French-inspired room in a Baroque style.
The most interesting part of the visit will be the sight of the concert hall and its elegant red velvet seats. With its horseshoe-shaped floor plan and seating for 4,000 spectators, this hall is made up of beautiful boxes and different categories of seats.
The experience of a lifetime
A visit to the Teatro Colón in Buenos Aires is an enjoyable and entertaining way to learn about a place that's part of the city's history as you explore its facilities.
Another way to enter the theatre, cheaper and perhaps more entertaining, is to buy a ticket to one of its many shows. The cheapest tickets cost a lot less than a guided tour.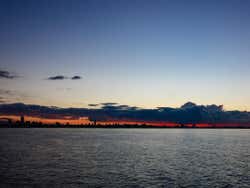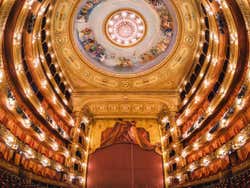 Schedule
Every day: 9 am to 5 pm.
Duration: 50 minutes.
Tours begin every 15 minutes.
Price
Guided tours:
Adults: 3,800 ARS (US$ 15.80)
Students: 800 ARS (US$ 3.30)
Children under 7 years old: Free admission
Transport
Public Buses: Lines 7, 9, 10, 17, 23, 45, 59, 67, 70, 75, 99, 100, 106, 109, 111, 115 and 140.
Metro: Tribunales, line D; Lavalle, line C; Carlos Pellegrini, line B.