Buenos Aires Museum of Modern Art (MAMBA)
The Buenos Aires Museum of Modern Art (MAMBA) was inaugurated in 1956 with the intention of bringing avant-garde artistic trends to wider society.
The museum's beginnings
The Buenos Aires Museum of Modern Art had a very unique beginning. During its early days, the museum surprised the city's residents by placing sculptures out in the streets. Its exhibitions tried to find novelty in a constant way, and soon they began to travel around the world.
The museum occupied different spaces throughout the city until 1989 when it was moved to the old cigarette factory, where it's located today.
Collections
The Museum of Modern Art has more than 7,000 works that span from the 1920s to the present day. This collection includes both Argentinean and international works.
The museum's collections are varied and include collections of photographs, drawings, engravings, graphic designs, and different works representing artistic trends from the last two decades.
Not for everyone
For many people, modern art just isn't their cup of tea. If you'ren't a fan of modern art, we'd recommend paying a visit to one of Buenos Aires' other museums instead.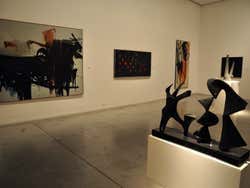 Schedule
Monday to Friday: 11 am to 7 pm.
Saturdays, Sundays and public holidays: 11 am to 8 pm.
First Monday of the month: Closed.
Price
Adults: 500 ARS (US$ 2.40)
Seniors, students, and children under 12 years old: Free admission
Wednesdays: Free admission
Transport
Public Buses: Lines 4, 9, 10, 17, 20, 22, 24, 28, 29, 33, 39, 45, 46, 53, 61, 62, 64, 65, 70, 74, 86, 93, 126, 130, 143, 152, 159 and 186.
Metro: San Juan, line C.