Zanjón de Granados, a small stream that once crossed the San Telmo neighbourhood, was accidentally rediscovered in 1985 under a large house built in 1830.
After 20 years of archaeological work, you can now explore a labyrinth of tunnels that'll allow you to discover over 400 years of Buenos Aires' past. 
A journey underneath the city
The mansion you can visit today, built for a wealthy Spanish family of leather merchants during the 19th century, was abandoned when yellow fever arrived in the south of the city.
The building went on to become a tenement house where dozens of poor families trying to survive were crowded together. Years later, the building fell into disrepair and remained closed until a construction project to convert it into a tango venue began. This was when the historic significance of this place came to light.
An absolute must-see
During tours of the house and the tunnels, the guide takes visitors back in time and introduces them to a fascinating story.
The facilities you can visit in the Zanjón de Granados are of great interest, but the guides are what makes them really stand out. The guides are excellent ambassadors of Buenos Aires and are always eager to share their extensive knowledge and enthusiasm for the city's history.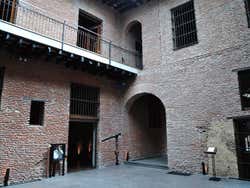 Schedule
Monday to Friday: 12 noon to 3 pm (guided visits every hour)
Sundays: 11 am to 5:30 pm (guided visits every 30 minutes)
You'll need to book beforehand
Price
Admission ticket: 4,000 ARS (US$ 16.70)