Estadio de River Plate - El Monumental
Located in the Belgrano neighbourhood of Buenos Aires, the Monumental Antonio Vespucio Liberti is the home stadium of Club Atlético River Plate, winner of 4 Copa Libertadores and one of the most successful clubs in Argentina.
The stadium is owned by Club Atlético River Plate, one of the biggest clubs in Argentina. It dates back to 1938 when the club's president at the time, Antonio Vespucio Liberti, decided to build it.
Museum and time tunnel
The River Plate Monumental Museum is almost 37,700 square feet in size and is a time tunnel that transports visitors through 118 years of the River Plate club's history. 
You can visit areas that reference some of the most important dates to "millionarios", which are how the fans are known. These dates include the most successful teams the club has seen and the trophies won in national and international competitions.
The museum is an unforgettable experience for visitors, as it has incredible features such as the 360º cinema that tells the story of Argentina's most successful club. One of their greatest achievements was winning the Copa Libertadores for the fourth time in 2018.
Tour of El Monumental
During the guided tour of the River Plate Stadium, you'll explore El Monumental's stands while listening to stories about the stadium and the club's legends. Afterwards, you can see the changing rooms and walk the same route that the club's players walk minutes before kick-off.
Perfect for football fans!
If you're a football fan or simply someone who enjoys watching the beautiful game, the River Plate Stadium is somewhere you'll definitely want to visit. El Monumental is like a place of pilgrimage for fans and is the perfect place to learn more about a sport that has deep roots in Argentina.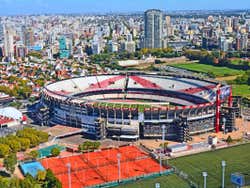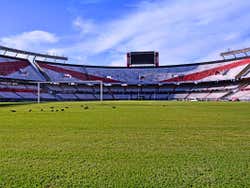 Schedule
Every day from 10 am to 7 pm (except on match days).
Price
Museum: 1,200 ARS (US$ 5)
Museum + Express Visit: 1,000 ARS (US$ 4.20)
Museum + Tour: 2,100 ARS (US$ 8.80)
Museum + tour for children between 5 and 12 years old: 1,200 ARS (US$ 5)
Transport
Public Buses: lines 15, 29, 37, 42, 57, 107, 130, 152 and 160.