Buenos Aires Metro (Subte)
The Buenos Aires metro, better known as Subte, opened in 1913, becoming the first underground transportation network in Latin America and in the entire southern hemisphere.
Although for many locals the metro is the best way to get around Buenos Aires, from a tourist point of view, the network is not very extensive, as there are areas where no lines pass through.
Subte lines in Buenos Aires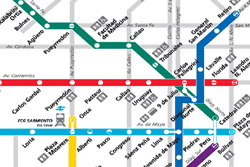 Map of the Buenos Aires Subte
The Subte consists of 6 lines and 85 stations and is currently undergoing expansion.
Line A (light blue): Plaza de Mayo - San Pedrito
Line B (red): Leandro N. Alem - Juan Manuel Rosas
Line C (blue): Retiro - Constitución
Line D (green): Catedral - Congreso Tucumán
Line E (violet): Bolívar - Plaza de los Virreyes
Line H (yellow): Las Heras - Hospitales
Premetro
The Premetro is a tram line spanning nearly 5 miles (8 kilometers) that is managed as part of the metro network. Some of the stations are connected to the metro lines and the ticket prices are the same.
Schedule
The Buenos Aires Subte begins running at 5 am and closes between 9 pm and 11 pm, depending on the line.
Trains have a frequency that varies between 3 and 8 minutes depending on the line and time of day.
Fares
A single ticket for the Subte (Subtepass) costs 42 ARS (US$ 0.20). You can buy tickets for 1 or 10 trips, although the fare is not reduced when buying several at a time.
To use public transport you must have a SUBE card.
Tips
Before entering the station it's important to check the direction you're headed, as the platforms of some stations aren't connected.
As in other big cities, there are many pickpockets on the metro. To avoid becoming another target, exercise extreme caution, don't stand next to the doors, and keep all your belongings hidden and accounted for at all times.