Presidente Sarmiento Museum Ship
Opened in 1897 in honor of Domingo Faustino Sarmiento, the founder of the Argentine Naval School, the ARA Presidente Sarmiento was used as the first modern training ship for the Argentine Navy.
A museum full of history
With over a century's worth of history, the ARA Presidente Sarmiento ensures that the 39 trips it made and the 1,100,000 nautical miles it travelled aren't forgotten. This distance is equivalent to 50 trips around the world!
After many years of service, the frigate made its last voyage in 1961 and was declared a National Historic Monument. It went on to become a museum located in Dock III of Puerto Madero.
Exploring the ship
Visitors can immerse themselves in the world of the Presidente Sarmiento and discover what life was like on board by travelling through each of the ship's rooms, such as the engine room.
In the rooms, there are souvenirs that the crew members brought back from different parts of the world, such as a stone from the Great Wall of China, or the embalmed body of a puppy that travelled as the crew's pet.
If you feel like visiting more ships, Puerto Madero is also home to the Corbeta Uruguay, another beautiful wooden ship.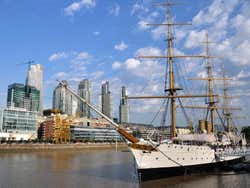 Schedule
Monday to Sunday: from 10 am to 7 pm.
Price
Adults: 10 ARS (US$ 0.10)
Children under 5 years old: free entry
Transport
Public Buses: lines 2, 4, 6, 20, 22, 26, 33, 54, 56, 61, 62, 64, 74, 93, 99, 105, 109, 111, 126, 129, 130, 140, 143, 146, 152 and 159.
Subte: Leandro N. Alem, line B.